One of the best things about buying handmade/local/small (however you wanna put it) is that these things often tell a story. And the story that is told is a gift that you can then retell when you give the item to someone. Some of my favorite local storytellers will be at GRUMP this Sunday. Don't miss them!
1. John W. Fesken. You can find John's art in the Upper Town Hall at the show. His work is thoughtful and haunting. You get the feeling that there is a larger story going on in his work, but that each piece is almost like a dream. Layers of meaning.
He says, "these emotionally driven, theatrical constructions are the result of the seeking and recycling of forgotten objects and materials to involve in a process of deconstruction, manipulation, reconstruction and presentation."
2. Seeing in Fabric. You can find Seeing in Fabric in the Terrace Gallery at the show. Jaime using sewing to "paint" urban landscapes with such precise detail that you often think you might be looking at a photograph. The results are modern, but nostalgic, like a fantastic moment frozen just for you.
Jaime says: "What at first appears to be a "painting" is actually sewn fabric art. It is handmade entirely from recycled fabrics and sewing thread. There is no paint or dye involved whatsoever."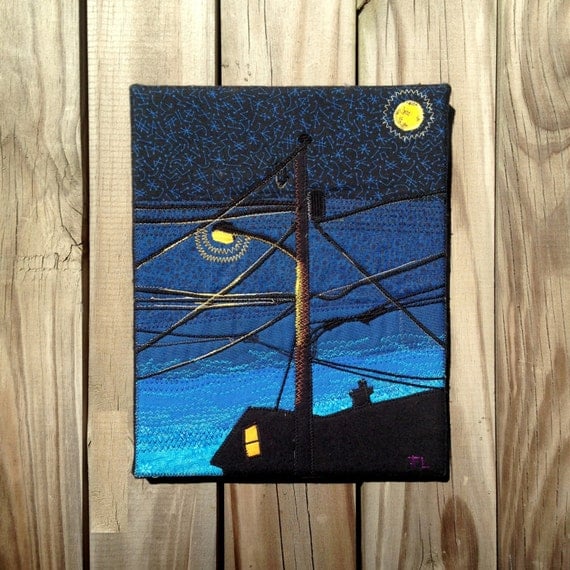 3. Matt Dembicki. You can find Matt & his graphic novels in the Upper Town Hall at the show. Matt collects and tells stories about all kinds of things from local DC history to the creatures of the ocean. His graphic novels cover wide ranges of interest and make perfect gifts to comics lovers AND reluctant readers. Who else do you know who can draw a school of Hammerhead Sharks with such attention to detail?
When asked, "What inspires you?," Matt says, " A good idea. Taking a kernel of something and nurturing into something bigger. Just knowing that it's possible to do something like that is a wonderful feeling."
Join us for GRUMP at Artisphere on Sunday, December 14th. Discover something new, get inspired.